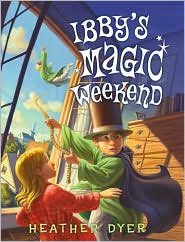 Ibby's Magic Weekend, by Heather Dyer. Frome, Somerset, England: Chicken House, 2008. 140 pages.
Ibby definitely doesn't believe in magic. But she changes her mind when her cousin shrinks to the size of her thumb! Ibby' cousins discovered an old magic box in their attic. As they play with the box, Ibby hears stories of her Uncle Godfrey, a magician who vanished years ago. Can Ibby and her friends discover a way to make him reappear?
This story is pretty basic. There's no subtext and no underlying themes--it's just a story about magic. I read it for a tween book club I run at my local library, and I worried that the girls in the club would be bored. But when I talked to them, they said they really liked it. I was a little bored, just because there wasn't anything there besides the basic story, but it was a very quick read.
For ages 9-12. May appeal to reluctant readers who have difficulty discerning themes and subtext. Additional reviews can be found
here
,
here
, and
here
.