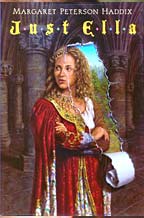 Like the rest of the girls in the kingdom, Cynthia Elianora dreams of going to a ball and being swept off her feet by Prince Charming. What girl wouldn't want to marry a handsome prince and leave all her troubles behind? But once it really happens, her perfect "happily ever after" isn't anything like she imagined. Her advisers try to mold her into their idea of what a princess should be, and Prince Charming is nothing
but
a pretty face. As Ella becomes more disillusioned with her life, the stories of a fairy godmother who sent her to the ball persist in the kingdom. Why can't anyone believe she did it all on her own? And who will help her escape her unwanted royal destiny?
This story, with its strong, independent heroine, is a believable retelling of how the Cinderella story may have played out without a magical intervention. It provides an interesting twist on the well-known, well-loved tale.
A detailed review can be found at
Greenmanreview.com
. Additional editorial reviews can be found at
amazon.com
.
Awards (list found here):

American Bookseller Pick of the Lists, 1999
A YALSA Best Book for Young Adults, 2000
A YALSA Quick Pick for Reluctant Young Adult Readers, 2000
New York Public Library Book for the Teen Age, 2000
International Reading Association Young Adult Choice, 2001
Readers' Choice Award for Teen Books Finalist, 2003
A YALSA Popular Paperback for Young Adults, 2005