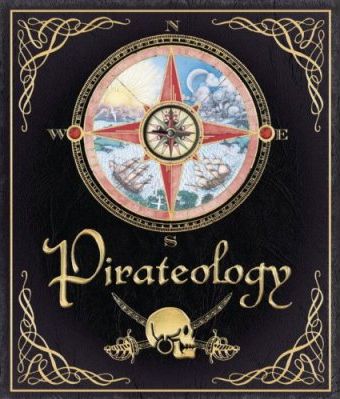 Pirateology, by Dugald A. Steer (from the perspective of Captain William Lubber). New York: Candlewick Press, 2006. 32 pages.
Ahoy, mateys! The journal of Captain William Lubber, a notorious pirate hunter tracking the legendary pirate Arabella Drummond, was discovered in a treasure chest. Read the ship's log, see the map of his journeys, and learn more about pirate lore, weaponry, tying knots, weaponry, ocean navigation, and the Jolly Roger. This pop-up book, which was designed to look like worn parchment, is chock-full of sidebars, maps to unfold, and drawings of infamous real-life pirates. As Captain Lubber logs his journey around the globe, learn more about pirates from Tortuga and Port Royal in the Caribbean to China, Madagascar, and Nova Scotia.
This interactive, oversized volume offers a wealth of information and facts about pirates that reluctant readers will enjoy. While this book offers some interesting information, it is perhaps best as a first source for information about pirates. Tweens who want more may be interested in books such as
Hannah Pritchard, Pirate of the Revolution
,
Pirate's Log: A Handbook for Aspiring Swashbucklers
, or
Under the Eagle's Beak: The Search for the Treasure of the Pirate's Pit
.
Editorial reviews can be found at
Amazon
. The book's official website can be found at
http://www.biblioweb.co.uk/pirateology/
.